Image Acquisition and Display Options
Today there is a wonderful, wide range of options for enjoying your image. My own personal custom printing or working with partner providers in various media insures you the highest quality. All work is guaranteed.
See media options below. Prices do not include shipping. It can be overwhelming, so call or write if you would like to discuss the options.
Procedure to Order Image Reproductions
Find the image you like and make note of the Category and Title in the Image Collection
Some images for printing vary in dimensions or aspect ratios, especially if they are panoramas, so sizes will vary. When matted, certain sizes may need a custom frame.
Choose the media type (print,canvas, metal,etc.). See Image Options below.
Often, calling or emailing is a great way to get your questions and needs answered. Deciding on a size for a certain location in your room can sometimes be challenging.
E-mail the information of the image or text/call at 503.956.4950.
A confirmation will be sent via email.
Payment by Check or Paypal with the accoun:t byronwillphotography@gmail.com. Thank You!
All orders are processed in a timely manner, but due to travel/photography engagements, the entire process can take up to 3 weeks.
Guarantee and Returns
All prints and other media are fully guaranteed. If you wish to return the item, it must be returned in the condition it was received and your payment will be fully refunded via check. You only pay for the return shipping. The print must be returned within 30 days.
Note: Shipping and Handling are not included in the prices. All items will be carefully packaged. You are also welcome to pick up here in Portland, Oregon!
For matted prints, most Shipping and Handling is $20-$30 in the U.S.. $45-$55 for International shipping. Other media/sizes will be quoted for your area.
Thank You!
---
Image Options
Archival Pigment Prints
Prints are the most traditional format for display. The finest detail, contrast and depth in monochrome as well as a very wide color range for color images make these prints the best available.
All images are printed with the latest advances in archival pigment ink and the highest quality fine art paper. With proper care, your print will last hundreds of years. All prints are titled, signed and dated with the capture date and the print date with an archival pen. The front of the mat is signed, and a signed, descriptive label is applied to the back of the mounting board. All prints are printed at the time of the order to insure the highest quality.
Prints are available in a mildly textured watercolor type paper (Epson Velvet Fine Art) or a low lustre Baryta paper (Hahnemühle or Canson). Watercolor paper has more texture and a matte finish. Low lustre paper has a very low sheen and wide dynamic range and color gamut.
The large landscape prints have a "you are there" feeling as you enjoy looking at various features and surprises in the image. Many images work well in smaller sizes. Please inquire.
2021 Prices
Prints
Matted Prints
Custom prints are matted museum-style with an archival quality mat hinged to the backing board. The print is attached to the foam backing board with plastic corners, so the print is completely removable and can be later remounted if desired. The print is signed in ink, and the mat is also signed. The prints are carefully packaged and sent flat, ready to frame.
Prints with mats are also available for Panorama Images.
Here are some sample prices.
Matted 8 x 10"- Fits 11 x 14" frame- $140.00
Matted 16 x 24"- Fits 20 x 30" frame- $225.00
Matted 20 x 30"- Fits 24 x 36" frame- $255.00
Matted 24 x 36"- Custom frame may be needed- $285.00
Matted 28 x 42"- Custom frame may be needed- $355.00

Panorama sizes available. You are welcome to request a custom mat size for different display styles. Please inquire>
Custom Printed, Signed, Museum Matted and Framed Images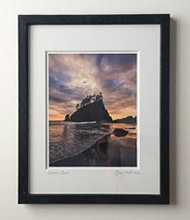 Custom matted and framed images are made completely in our workshop in Portland, Oregon. They are framed in a clean, simple, black wooden or natural finished frame and ready to hang. For large prints, if you live outside the immediate area, it's recommended you purchase a matted print and then purchase a frame separately in your local area.
The frames are solid, light weight hardwood, completely hand made and assembled by us. They are ready to hang, quite light for their size, with plexiglass instead of glass used to cover the mat and print.
Custom Matted and Framed Prints- Prices


Matted and Framed 11 x 14"- 20 x 23" frame- $265.00
Matted and Framed 16 x 24"- 25 x 33" frame- $345.00
Matted and Framed 20 x 30"- 29 x 39" frame- $415.00
Matted and Framed 24 x 36"- 33 x 42" frame- $460.00
Please inquire about larger sizes.
---
Prints for Home and Commercial Applications (NEW!)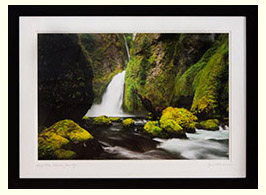 These framed prints have just recently become available and very affordable. They are printed on high quality Satin Luster or a Watercolor paper using the latest 10 ink printers.
The prints are dry mounted and matted with double white mats, making a very handsome appearance. The composite frames are available in a number of different styles and colors ( 1 1/2" black is shown), with a plexiglass cover.
The prints are inspected, the mat is signed, new bendable tabs are installed in the frame, and a descriptive label applied. They are ready to hang.
Unlike the custom matted images above, the image is fixed to the mat (dry mounted) so the print cannot be removed from the mat and backing. However, if you decide to use a different frame, the mat and foam backing can be easily removed and placed in a new frame.

Matted and Framed 11 x 14" Print- 19 x 21" frame- $225.00
Matted and Framed 10 x 20" Print- 18 x 33" frame- $275.00
Matted and Framed 16 x 24" Print- 25 x 33" frame- $285.00
Matted and Framed 20 x 30" Print- 29 x 39" frame- $310.00
Matted and Framed 24 x 36" Print- 33 x 42" frame- $360.00
---
Canvas Prints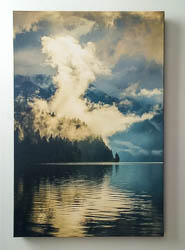 Canvas Prints have a warm textured painterly surface with minimal sheen. They are economical, UV protected, very light weight and ready to hang. The 1 1/4" sides can be finished in various ways, with image wrap, mirroring or black and white edges. They look especially attractive in larger sizes.
Wood frame edges, either black or natural wood, are also an option, at a modest additional cost.
Example Sizes and Prices-Many sizes are available. Wood frames are very nice, and add approximently $40 to $60. Multiple panels also available.
12 x 16"- $130.00
10 x 20"- $140.00
16 x 24"- $160.00
12 x 36"- $160.00
20 x 30"- $175.00
24 x 36"- $220.00
20 x 60"- $270.00 (Panorama)
32 x 48"- $290.00
---
Metal Prints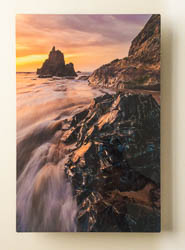 Metal Prints are a relatively new option for displaying images. The image is infused on a thin aluminum sheet. They are at their best with color images, especially an image with strong colors or an urban setting.
They are very lightweight, extremely durable, easy to clean, and come ready to hang. They are generallly displayed frameless, with slightly rounded corners and suspended away from the wall, for a very high gloss, modern and clean look.
16 x 20"- $190.00
20 x 30"- $225.00
24 x 36"- $290.00
---
Acrylic Prints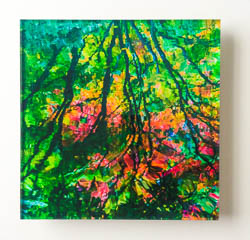 Acrylic Prints are a lamination of a print between a 1/4" sheet of acrylic and a composite (Dibond) backing. They are very decorative and with lots of "pop", especially with bold colors printed on metallic paper.
They come ready to hang with an installed cleat hanger. Custom sizes are available. Prices are rather high due to production costs. They are locally made.
Example Sizes and Prices- Images sizes vary.
12 x 18"- $295.00
16 x 24"- $415.00
24 x 24"- $460.00
20 x 30"- $495.00
24 x 36"- $585.00
28 x 42"- $765.00